Quick and Easy Gel Buttons in Canvas™ 7
Part Three
12. You could use this vector version of the button in the Web Buttons palette, but I prefer to use paint objects (images). I have purposely left the button un-grouped to make it easier to select its parts to make color changes. Marquee-select the button to select all of its objects.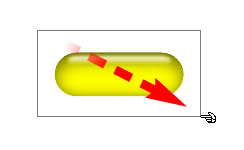 13. Next click Image > Area > Render. You will see the "Render Image" dialog. Choose RGB for the "Mode" with a resolution of 72 pixels per inch (ppi) with fine anti-aliasing and a visibility mask. Use the settings shown circled below and click "OK" when done. Screen images are prepared using RGB color at 72 ppi. The visibility mask gives it a transparent background and the anti-aliasing will give it a smooth edge.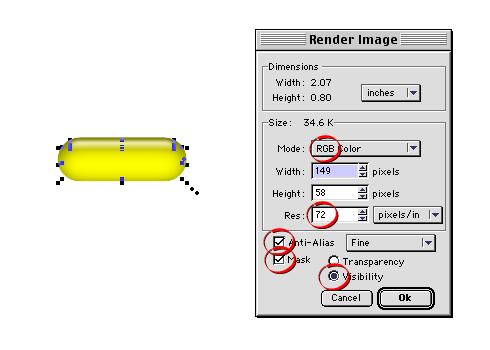 14. This will create a new paint object directly on top of the vector original. Drag it off the vector group so you can work on it by itself.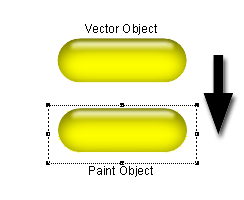 15. Trim away all excess pixels in this paint object with the Crop tool (click here for more details). Then click on it and Opt-drag (Macintosh®) or Alt-drag (Windows®) away from it to create a copy of the paint object. Be sure to release the mouse button before releasing the Opt/Alt key. Alternately you can use Edit > Copy followed by Edit > Paste. Bring up the Transparency palette and set the opacity of this copy to 70%.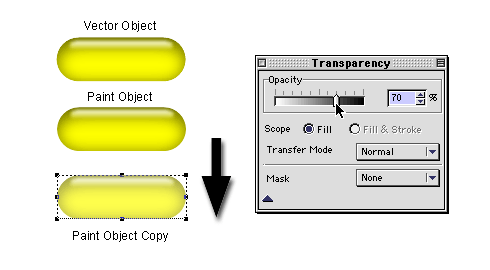 16. Double-click the Web Button tool in the Toolbox to bring up the Web Button palette. Drag and drop the paint objects into their respective "Up", "Over" and "Down" boxes in the palette as shown in the example below. You will then see the button in the preview box in the middle of the palette which you can test with the mouse. When you are satisfied with the results, drag the button from the preview box into the scrolling area at the top of the palette to save the button. For more details on how to place web buttons into Canvas documents click here.