Canvas™ Rollover Buttons - Part Four
21. While this copy is still selected, bring up the opacity slider in the Toolbox and adjust the opacity of the copy to 60%. This copy will be the "down" button.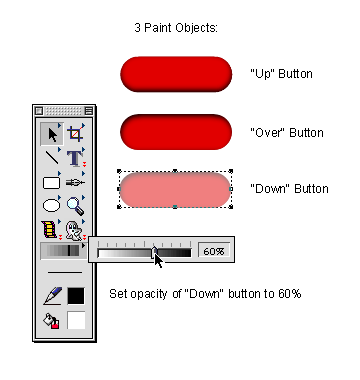 22. Double-click the Web Button tool in the Toolbox to bring up the Web Button palette. Drag and drop the paint objects into their respective "Up", "Over" and "Down" boxes in the palette as shown in the example below. You will then see the button in the preview box in the middle of the palette which you can test with the mouse. When you are satisfied with the results, drag the button from the preview box into the scrolling area at the top of the palette to save the button.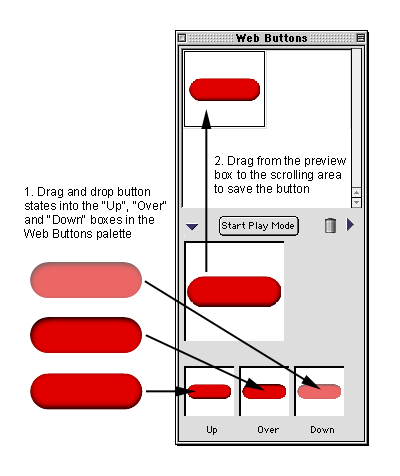 23. Make a new 600 x 400 Presentation document and drag and drop buttons from the palette into the document. This is what's really cool about Canvas. You just lay them out and it will create all the HTML and graphics.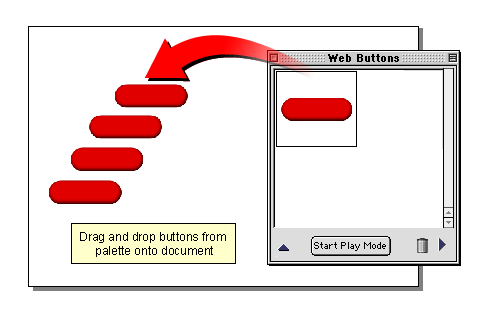 | | | |
| --- | --- | --- |
| | | Tip: Drag and drop only one button into the document from the palette, then copy and paste this button to avoid creating more than one instance of the button in the document. |
24. Save this new document as a Canvas document first, then click File > Save As and choose "HTML" from the "File Format" drop down.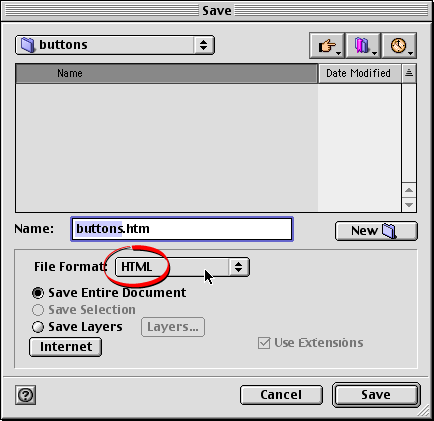 25. You will see the "HTML Options" dialog. For this example, choose "GIF" as the Image format and use the settings in the example below for the web page and images. Click "OK" when done.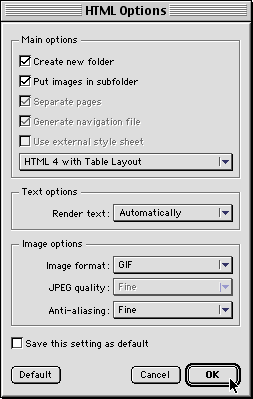 Click here to see the finished web page with rollover buttons.