Quick and Easy Gel Buttons in Canvas™ 7
Part Two
6. Make one last rounded rectangle and refer to the screen shot below right for its size and position. We need to apply a Gaussian Blur to this object so click Object > SpriteEffects™ > Add Effect > Blur > Gaussian Blur, and enter 1.9 pixels in the dialog.
7. Using the Gradient manager give it a gradient fill ink with white as the first color and the following HSL values for the second color: (refer to the screen shot below right)
H=60, S=100, L=40
8. Next we need to clip these objects to give them a clean edge. To do this, we need to make a duplicate of the bottom rounded rectangle and use that as the clipping path. Duplicating this object will place an exact copy on the top of the stack in the exact same position as the original. This is a good technique for making a clipping path. Start by selecting the bottom object ("Object 1").
9. Next click Edit > Replicate. In the dialog, choose one copy with no offset or scaling (circled below). Click "Apply" when done. The duplicate rounded rectangle will appear at the top of the stack.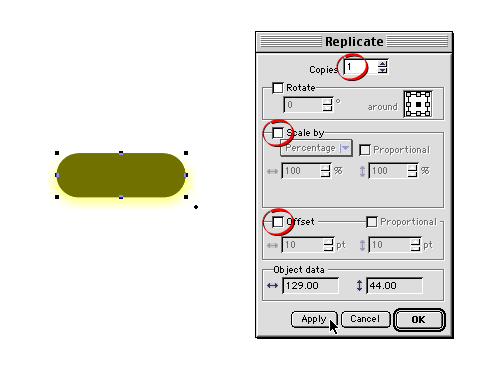 10. Using the Selection Tool, marquee-select all four objects. Make sure to drag completely around the SpriteEffects of the objects to which the effects are connected.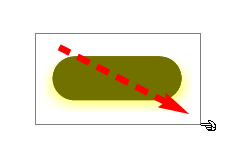 11. Click Object > Clipping Path > Make. This completes the gel button master.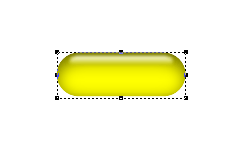 Click Here To Continue...