Porting Files Across Platforms:
Overview
I've had several requests for cross-platform tutorials. This is the first in a series of tutorials for sharing files between Macintosh® and Windows® systems. There is good news for porting files between Mac® and PC and that is that most all graphic file formats will port without any modification whatsoever. You can share files between Mac and PC versions of Adobe® Illustrator®, Adobe Photoshop®, Macromedia® FreeHand®, CorelDRAW® and Deneba Canvas™ to name a few.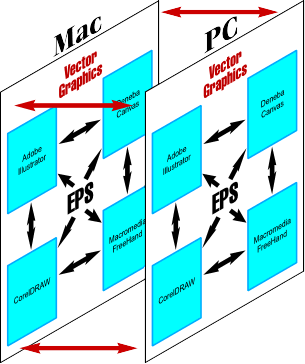 Some File Types That Port Easily Between Mac and Windows
You can share files from practically any application that is supported on both platforms. Although I am unable to do a proper test of all file formats in all systems, I have a Mac-Win network with a G4 Power Mac running OS 9 and a PC running Windows 98. On this system I've been able to successfully port the following formats without any problems:
File Type
Application
Note
PSD
AI
EPS
PDF
FH8 / FH9
CNV
PICT
GIF
JPG
PNG
TXT
DOC
HTM / HTML
FDB / ADM
QXD

Adobe Photoshop
Adobe Illustrator
Generic EPS
Adobe Acrobat®
Macromedia FreeHand
Deneba Canvas
Macintosh PICT
GIF image
JPEG image
Macromedia Fireworks®
Notepad or SimpleText
Microsoft® Word®
Web pages
Extensis® Portfolio™
QuarkXPress™






Use .PCT extension on PC
Please keep in mind that this is a very limited list. There are many more formats which will port just as well.
You can even download files from the Internet intended for one platform using the other platform to download them. For example, it is common to download files in compressed format. You can download PC files such as .ZIP and .EXE using a Mac and port them over to the PC. These are WinZip, PKZIP (.ZIP) or EXEcutable (program) files on the PC. You also can download Macintosh .SIT and .BIN files with the PC and port them over to the Mac. These are Stuffit (.SIT) and MacBinary (.BIN) file compression formats used on the Mac (more here on these file formats).
The Macintosh and PC File Systems
The main difference between the Mac and PC file systems is that some Macintosh files have two parts called "forks" - a data fork and a resource fork. PC files have only one part. When files are ported from the Mac to the PC, the PC recognizes the data fork, but can't really do anything with the resource fork. Fortunately, most graphic file formats use the data fork.
Porting Icons and Fonts Between Mac and PC
While most application data files port without a hitch, icons and fonts are a different story. Mac icons and fonts are stored as resources. Fonts require special software and techniques for them to survive the trip (more about porting fonts here). Icons are basically images and can be converted into one of the bitmap formats then ported as data, then recreated into icons once ported. There is a lot more to the subject than can be adequately covered on this page, so it is only mentioned here.