Separating A Mask From A Cropped Bitmap In CorelDRAW®
When a masked bitmap is imported into CorelDRAW the bitmap and its vector mask are converted into a "cropped bitmap". A cropped bitmap is treated as a single object where the bitmap and its vector mask are inseparable when using CorelDRAW alone. There is no way to separate a vector mask from the bitmap unless you use another vector application as a "go between". If you are not importing an EPS or PDF file and intend to work with a bitmap and vector mask as separate objects, it is better to use CorelDRAW's PowerClip™ feature instead.

If you open an EPS or PDF file with a clipping path using the File > Import > PostScript Interpreted (EPS) filter or if you embed a bitmap image and crop it with the node editing tools, you may run into this situation. Other illustration programs (Deneba Canvas™, Adobe® Illustrator® or Macromedia® FreeHand®) treat a bitmap and its mask as separate objects when imported as an EPS or PDF file. This tutorial uses one of these other applications to separate a cropped bitmap into its vector and raster components.
Extracting a mask from CorelDRAW first involves exporting the image as a PDF file (Adobe Acrobat® Portable Document Format), then using Deneba Canvas, Adobe Illustrator or Macromedia FreeHand to extract the mask from the bitmap. Any one of these programs is used as a "go-between" application which will read the PDF file and allow the mask to be extracted and saved as a vector EPS file. This vector EPS file can then be imported or opened by CorelDRAW (as well as Deneba Canvas, Adobe Illustrator or Macromedia FreeHand). The following chart illustrates the method: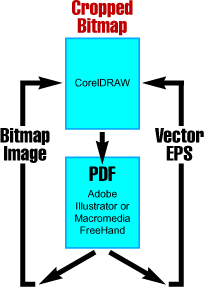 Once the bitmap image with its mask has been loaded into Deneba Canvas, Adobe Illustrator or Macromedia FreeHand, the mask can be extracted and saved as a separate object which can then be edited in CorelDRAW or any other drawing program.

Below are the step-by-step tutorials which outline exactly how this is done:

First setup Adobe Distiller so bitmaps don't get downsampled:

Prepare - Setup Adobe Distiller Job Options

Next separate the mask from the bitmap:

Part One - Exporting a PDF file from CorelDRAW 8
Part Two - Separating mask from bitmap in Illustrator 7 / 8 or FreeHand 8
Part Three - Opening separated mask and bitmap in CorelDRAW 8