Using illustration programs as an example (Deneba Canvas™, Adobe® Illustrator®, CorelDRAW® and Macromedia® FreeHand®), there are four basic output channels and three basic input channels for porting files between applications. Other than the obvious File > Save and File > Export output channels, there are two additional output channels. These are not normally regarded as channels for porting files, but are, nevertheless, available. First there is "Copy and Paste" from one application to another (via the clipboard in memory only), then there is File > Print to a PDF file. The output can be sent directly to the Acrobat® PDF Writer printer driver, or to a PostScript® PRN or PS file. The PostScript file can be converted to a PDF file by Adobe Acrobat Distiller®.
| | | |
| --- | --- | --- |
| | | Note: There is one proviso to using PDF as a means to port vector images and that is if you are using the RGB color space, you should use "Save As" or "Export" from Deneba Canvas Adobe Illustrator, CorelDRAW or Macromedia FreeHand to create the PDF file. If you use the "Print" output channel (such as when using Adobe Distiller®) all the RGB data may be converted to CMYK in the process - depending on the version of Acrobat. Refer to the Adobe technical document number 320683 at their web site. |

Basic Input and Output Channels For Illustration Programs:


Output Channel
File Type

File > Save (or Save As)

File > Export

File > Print

Edit > Copy



EPS, PDF or *Native

EPS, PDF or *Native

PDF, PRN (or PS)

(Into Memory Only)


Input Channel
File Type

File > Open

File > Import (or File > Place)

Edit > Paste



EPS, PDF or *Native

EPS, PDF or *Native

(From Memory Into Document)



* Native file format: The file type generated by the application itself. For example, Deneba Canvas generates files having a filename with an extension of .CNV - for versions 6 and 7, Adobe Illustrator generates files having a filename with an extension of .AI, CorelDRAW generates files having a filename with an extension of .CDR and Macromedia FreeHand generates files having a filename with an extension of .FH8 for version 8 or .FH9 for version 9.

EPS: Encapsulated PostScript file

PDF: Portable Document Format - the file format for Adobe Acrobat

PRN (or PS): PostScript files generated by the File > Print command where the output is sent to FILE instead of the printer. These files can be transformed into PDF format through the use of Adobe Distiller. The PDF file can then be imported into the target application.

Import / Export Filters

An import or export filter is a piece of software (a file installed on your computer when you install the application) used by the application to either read or write files in a format other than its own native file format. When you install the application some of these filters are installed by default, while others are optional. I will install every one of them. It is to your advantage to install these filters because they allow the freedom to use your favorite features from different applications on the same project.

Import / export filters are extremely useful because they provide a means to save or export files in either the same format or a third party format not native to either the source application or the target application. Below is a chart showing the available filters for saving files with CorelDRAW 8 and for opening files in Adobe Illustrator 8.

In the chart are three routes for porting a file from CorelDRAW 8 to Adobe Illustrator 8. One is where a file is saved in the native format of the source application (CorelDRAW), then opened directly by the target application (Adobe Illustrator). A second example is where a file is saved in the format of the target application then opened directly by the target application. A third example is where a file is saved in a third party format then opened by the target application. Can you spot more examples?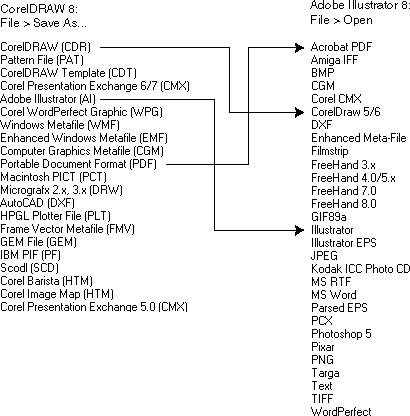 One very important point to mention here is that these filters do not always work as expected. That is why it is best to install all of them so you can try others. Sometimes there are differences in them which can affect results.

There are some unique features in the various illustration programs which simply will not port between them and become lost in the process. Only the features supported between the source and destination application stand a chance to survive the trip.

Another very important point to mention is that often there are input and output options or preferences which you need to set in the source and target applications that will have a major affect on results.

It takes much trial and error to work out the best way to port files between applications. I have worked out a few (on my own system...bear in mind) and these appear here in the "Porting Files" section of the web site.

Click Here To Continue...