The Equivalence of Masks and Clipping Paths
Masks in Illustration Programs...Clipping Paths in Image Editors
A bitmap image with a clipping path prepared in an image editor (Adobe® Photoshop® or Corel PHOTO-PAINT®) is functionally equivalent to a bitmap image with a mask prepared in an illustration program (Deneba Canvas™, Adobe Illustrator®, Macromedia® FreeHand® or CorelDRAW®). In order for the image with the clipping path or mask to be utilized in any document, whether it be for a page layout program (QuarkXPress™ or Adobe PageMaker®), an image editor or illustration program, the image should be exported as an EPS file. The EPS format is the most widely supported amongst page layout programs for utilizing images with clipping paths or masks.

| | | |
| --- | --- | --- |
| | | Note: Both Adobe InDesign® and Adobe Illustrator support native Photoshop .PSD files with clipping paths. Although Illustrator isn't usually used for page layout, nevertheless it can be used for simple one-page layouts destined for print. Still, EPS is the most universal format for images with clipping paths. |
Because an image with a clipping path contains both vector data (the clipping path) and bitmap data (the image itself) the file format has to support both data types. The EPS file format uses PostScript® and supports both data types in a single file. This is why it is the most universal format for this purpose. The chart below describes the various routes such EPS files can follow: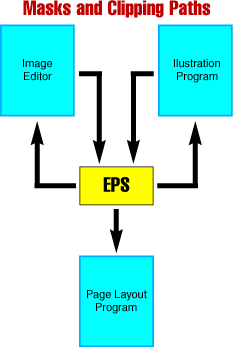 | | | |
| --- | --- | --- |
| | | Note: The generic EPS format is the best for porting straight line art drawings. Porting masked bitmaps using the PDF format is covered more fully in another page(port4.htm). Still, there is no single format which ports reliably in all situations. Much of this has to be done by trial and error. |
The exporting of EPS files as masked bitmaps from an illustration program is not the usual output channel for such images. Graphic artists and service bureaus are used to these files being prepared with an image editor. Nevertheless, if you were to embed or link a bitmap into an illustration program (such as Adobe Illustrator), then knock it out with a mask and export the image and mask as an EPS file it would work the same as if it were prepared in an image editor (such as Adobe Photoshop) with a clipping path.

Click Here To Continue...