Porting Fonts Across Platforms:
Number 20D
Porting Mac® Type 1 Fonts To The PC With Mac FontLab®
To find out more about FontLab and where to get it, click here
Click here for legal note on fictitious font name used in this tutorial
14. In the Save dialog, press the "Options" button for Type 1 export options.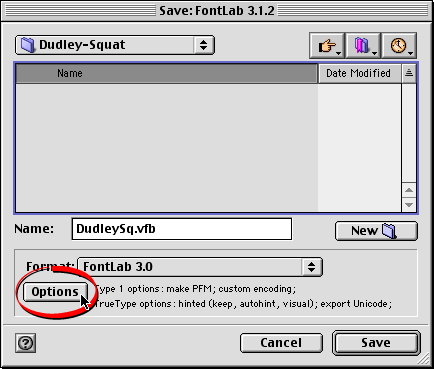 15. In the Type 1 Export Options section in the Export Options dialog select the option, "Always write custom encoding" (circled below). This will cause the font to be generated using the encoding that is displayed in the font window. In a previous step, we setup the font with the correct encoding for this reason. Click "OK" when done.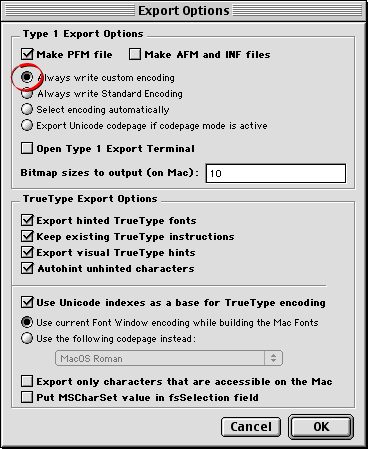 16. Returning to the Save dialog, select "PC Type 1" from the "Format" drop-down box. Navigate to the destination folder and click "Save" when done.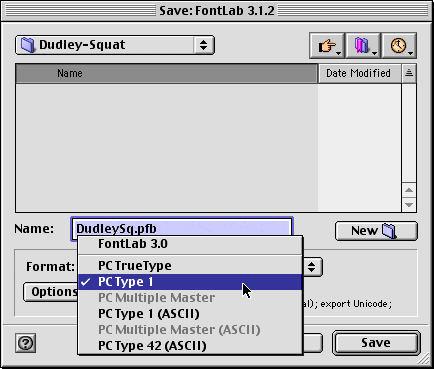 17. The converted font files will appear on your drive (below left). Optionally, click File > Save to save the FontLab .VFB file (below right).
| | |
| --- | --- |
| PC Font files | FontLab font file |
18. Copy these files to the PC either by using a PC-formatted disk or by sending them over a network (more here on copying files between Mac and PC).

19. The Type 1 font files will appear on the PC's drive. Install the font using ATM (more here on installing Type 1 fonts on the PC using ATM).