Porting Fonts Across Platforms:
Number 19B
Porting PC Type 1 Fonts To The Mac® With Mac FontLab®
To find out more about FontLab and where to get it, click here
Click here for legal note on fictitious font name used in this tutorial
5. In FontLab, you can generate fonts using the encoding that is displayed in the font window. That was the purpose of changing the encoding in the font window.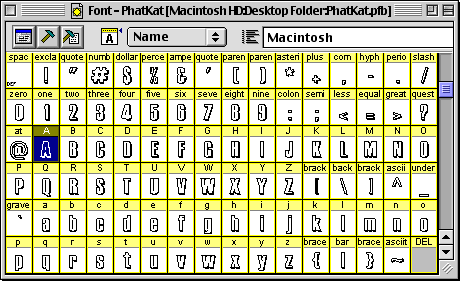 6. In PC Type 1 fonts, the kerning and other metrics is in the .PFM file. When using FontLab, Type 1 font metrics must be imported manually (more here on why this is important and why you have to take the necessary steps to include the metrics in the conversion). Click Window > New Metrics Window to view the effect of importing the font metrics.
7. In the text box in the metrics window (circled below right), type a few characters such as "AVA" or "AWA" or "To" to observe the effects of the kerning metrics. The font in this window has no kerning applied yet because FontLab reports the number of kerning pairs to be zero (circled below left).