PostScript® Printing Without a Printer- Windows® 98 - Part One
One of the most basic techniques in desktop publishing is to print to a PostScript device in order create a PostScript file. The resulting .ps (or .prn) file can be distilled into an PDF file with Adobe® Acrobat® Distiller® or opened in an illustration program like Adobe® Illustrator®, Macromedia® FreeHand®, CorelDRAW® or Deneba Canvas™. Once opened in one of these programs the file can be edited or saved as an EPS file which can be placed into your layouts or used in a variety of different ways. This is a basic technique for porting files using PostScript.
Note: If you plan to print TrueType® fonts using a PostScript printer in Windows, please see this very important tutorial on avoiding font substitution. Click here for a tutorial on how to configure the PostScript printer to avoid font substitution.
This tutorial is for Windows 98. For setting up a PostScript printer in Windows XP see this tutorial.
1. Start by clicking Start > Settings > Printers. You will see a folder with all your installed printers. Click the "Add Printer" icon.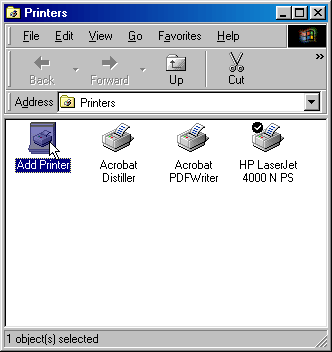 2. This will start the "Add Printer Wizard". Just follow the prompts in the wizard. Click the "Next" button.