Using a PC MACLAN Network:
Part 3A
Mapping PC File Types To The Mac®
Although PC MACLAN has already mapped a large number of PC file extensions to the Macintosh®, new applications are continually being released. This tutorial shows you how to add new PC file types to PC MACLAN's file extension mappings - in this case, Adobe® InDesign® files. On the PC, these files have an "indd" file extension. If you don't have InDesign, you can select a different application.
Before we open the File Extension Mapping dialog in PC MACLAN, we need to obtain the file type and creator codes for InDesign documents (or one you have selected). This information can be obtained on the Mac using Sherlock (or the Find File program in earlier versions of the Mac OS).
1. Open Sherlock and click the "Edit" button.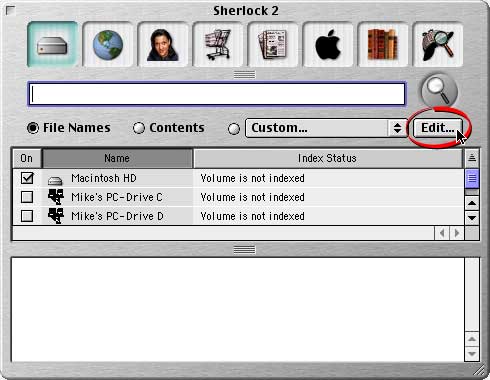 2. The "More Search Options" dialog opens. In the lower right corner is the "Advanced Options" section of the dialog. Here you will see boxes for entering file type and creator codes. These boxes also work in reverse. If you drag and drop a file over them, its file type and creator codes will be revealed.