Porting Fonts Across Platforms:
Number 4B
Porting Mac® Type 1 Fonts To The PC With CrossFont
To find out more about CrossFont and where to get it, click here
Click here for legal note on fictitious font name used in this tutorial
5. Drag and drop the Mac printer font file (the one containing the font outlines) into the CrossFont window. Click here for more on identifying which file contains the outlines.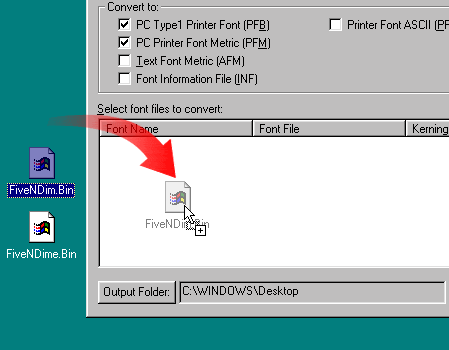 6. Now select the FiveNDime font listed in the CrossFont window. Selecting it will highlight it (circled below bottom). At this point we could simply convert the font, but I deliberately skipped a step here to illustrate a point. Instead of converting the font now, click File > Properties (circled below top).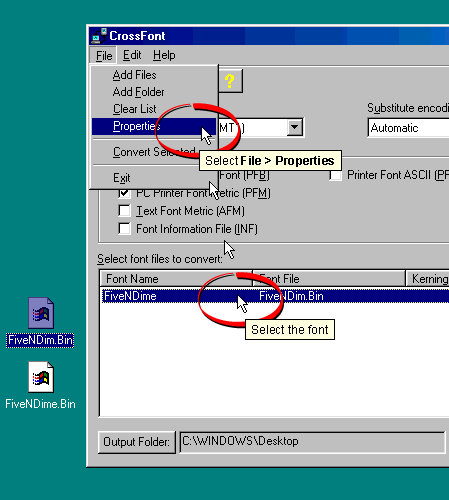 7. This brings up the Font File Information window. What we are looking for is to see if the font metrics were loaded when we dragged and dropped the font outline file into the window. As you can see, the kerning information was not loaded when we did (circled below). CrossFont requires that you drop both the Mac printer font and the Mac screen font into the window in order for the kerning metrics to be included in the conversion. Click "OK" to close the window.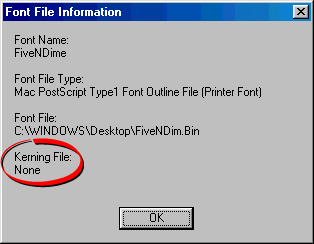 8. Now drag and drop the Mac screen font file into the CrossFont window just like before. You won't see any change in change in its appearance. The "FiveNDime"font still appears.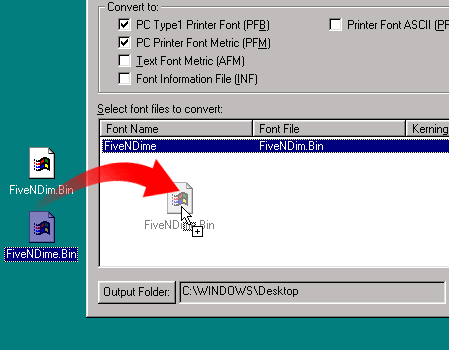 9. Click File > Properties again to redisplay the Font Information window. As you can see, this time CrossFont recognizes the font metrics in the Mac screen font and will include the kerning information in the conversion. This is a very important step as I explained here. Click "OK" to close the window.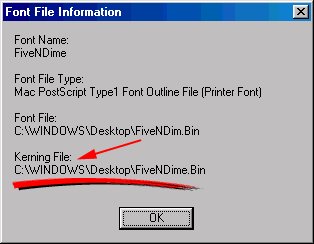 10. Okay, now we are ready to convert the font. Both the printer font file and the screen font file could have been dropped into the window together. In this exercise they were only dropped into the window individually to illustrate a point. Just remember to include BOTH files before converting the font. With the FiveNDime font still selected, click the "Convert Selected Files" button on the toolbar (circled below).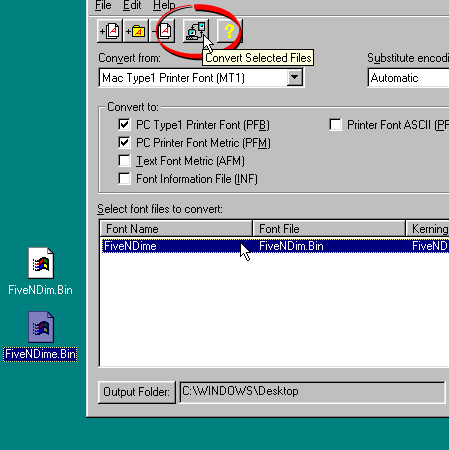 11. You will see a dialog asking you to confirm the name that will appear on the font menus on the PC. This is one of the important points about font conversion (more here). Click "OK" when done.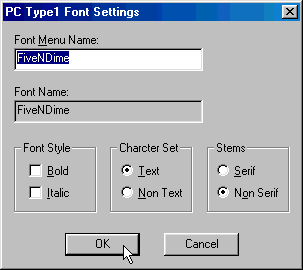 12. CrossFont will create two Type 1 font files on the PC's drive. Install the font using ATM (more here on installing Type 1 fonts on the PC using ATM).