Porting Fonts Across Platforms:
Number 12B
Porting Mac® Type 1 Fonts To The PC With Mac TransType
Click here for more on working with TransType
Click here for legal note on fictitious font name used in this tutorial
5. At this point I converted the font, then checked for the kerning information in Typograf (more details on Typograf here). As you can see, the "Kerning" tab of the font properties is totally blank. That means the kerning information was not included in the conversion.
| | | |
| --- | --- | --- |
| | | Tip: When in doubt you can check your results after converting a font as I did here. If the kerning metrics are missing, you can always convert the font again and make sure to include them. |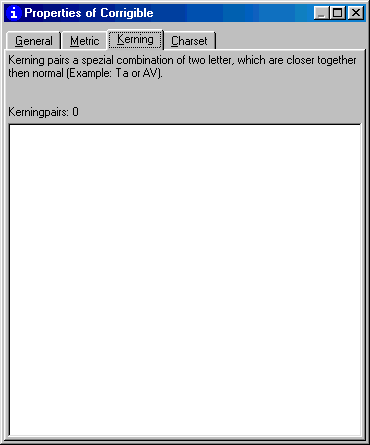 6. Let's backtrack a little and do a proper conversion. Clear the Mac printer font from the TransType window by clicking the "Clear" button (circled below).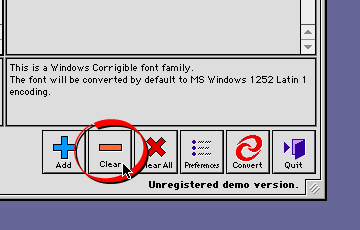 7. This time drag and drop the Mac suitcase file into the TransType window.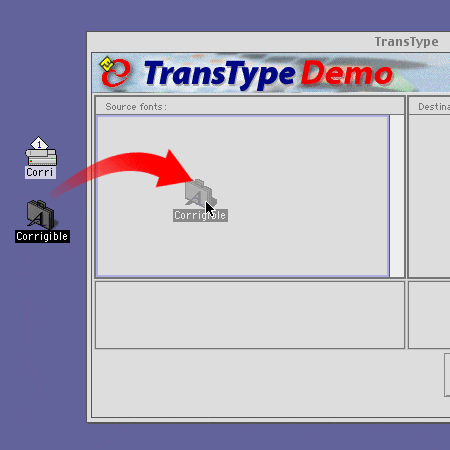 8. This time the Mac suitcase has been dropped into the TransType window (suitcase icon circled below) so we know that the metrics will be included in the conversion. Next we need to check the encoding. It is unclear from the input specifications in the legend panel that TransType can detect the source encoding (below). This is because the font is inside the Mac suitcase. We'll have to open it and look inside (next step). More here on TransType's font input and output specifications.