Cool Traveling Lens Effect In Canvas™ 7
Part Five
28. You will see a dialog where you can select animated GIF options. Choose "Infinite Loop" and "Antialiasing" (circled below). This will cause the animation to loop forever, and the text will have a smooth, anti-aliased appearance.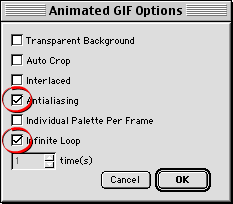 29. Shown below is the finished effect.
This tutorial just used a simple lens. Shown below is an image of a Canvas 7 clip I created that you can use to create a more elaborate version of the animation. Click here for a sample animation using the magnifying glass (190k).
Click to download:

magnify.sit
magnify.zip
Try doing the tutorial similar to the image below using the magnifying glass instead of the simple lens. Have fun! Canvas is a blast!