"Finesse" Text Effect With Canvas™ 7
Part One
| | | |
| --- | --- | --- |
| | | Note: This tutorial can be done in Canvas 6 with only a minor change. Both Canvas 6 and Canvas 7 include a built-in shadow effect, but version 6 only supports a vector object for the shadow. Version 7 supports both vector and image object types and both are used in this tutorial. To do the tutorial in version 6, you can use the method found here to create the soft shadow (paint object). |
This is an easy text effect you can quickly create using Canvas 7. As with most text effects in Canvas, it will render perfectly as PostScript® outlines and can be used for either print or screen displays with no loss in quality.
Font Used InThis Tutorial
This tutorial uses the font, Kunstlerschreibschrift Bold - which is included in the full version of Canvas on the installation CD (It also comes with the CorelDRAW 8 / 9 suites)*. You need to install this font and make it available to Canvas. If you don't have this font, then you can pick a similar one.
*Font packages may vary. Check it out for yourself before buying anything.
1. Select the Text tool and type the word "Finesse" anywhere on the layout area.

2. Choose the Selection tool and the new text object will be selected.

3. Set the font to 100 point Kunstlerschreibschrift Bold. Shown below is what the text object should look like. The text should appear black if the default pen ink is black.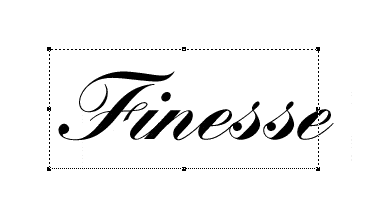 4. Bring up the Inks palette (or click the text color drop down arrow on the Text Ruler). Select the "Gradient" tab. In the Inks palette, make sure the Fill button is selected (circled below) and click the "Brass Plate" gradient. Note: Colors used in this effect use the RGB color space and may be out-of-gamut. If this text effect will be used in print, you will need to use the CMYK color space and correct the out-of-gamut colors.