Coffee Cup Animation Part One
Creating The Frame Images
This is an easy animation you can do with CorelDRAW®. This tutorial uses CorelDRAW 8 or 9 to create the frames and Adobe® ImageReady™ to animate them. For those who don't have ImageReady, you can use any other animation program to make the animated GIF (click here for Royal E. Frazier's software page). For this tutorial, you also need the clip art image COFFEET.CDR (in the Food/Drinks folder of the CorelDRAW 8 or 9 clipart collection) or COFFEET.CCX (in the Food4 folder of the ccx clipart in one of the Corel Gallery collections available commercially). You can probably find this image in most any Corel clipart collection or substitute one of your own.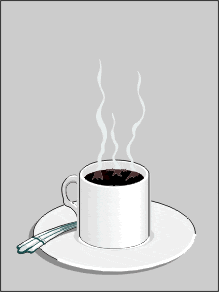 1. First, startup CorelDRAW and open the file. Next, click the "Landscape" button on the toolbar to switch the page orientation. This will give us enough room to make the frames.
2. Select the object group and drag it to the left of the page.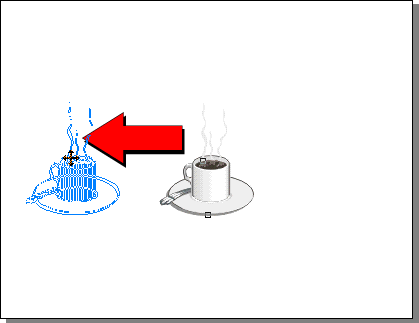 3. Your workspace should look something like the one below.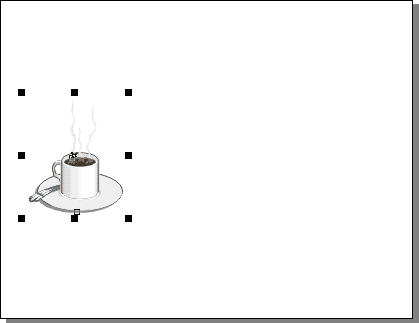 4. We need to modify some of the objects so while the group is still selected, click Arrange > Ungroup.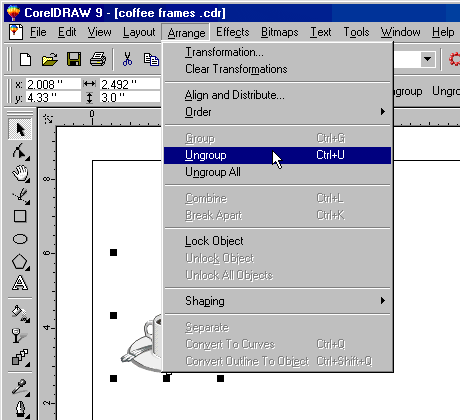 5. Now the drawing will appear as separate objects.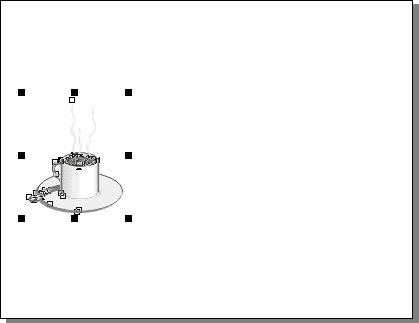 6. Next, click the Rectangle Tool and drag a rectangle around the coffee cup. This will provide a common frame of reference for each frame so they will align with each other when they are assembled.
| | | |
| --- | --- | --- |
| | | Tip: Creating a rectangle as a common frame of reference for each image is a standard way to make frames for animations. Do this whether you keep the rectangle in the finished animation or get rid of it by cropping it out. |
7. The rectangle will still be selected after you draw it.