How To Get Spot Color In A Process Color Print Job
When printing a four color job (process color - more here), all colors are created by mixing only four basic colors of inks - cyan, magenta, yellow and black. One of the advantages of using spot color (such as PANTONE® - more here) is that areas of solid color (such as those for text and line art) will appear crisp and distinct. In process color print jobs, these areas will often appear fuzzy and indistinct. This is because all the colors in a four-color job have to be mixed from the four process color inks (cyan, magenta, yellow and black). Anything less than 100 percent of any one ink will be rendered as halftones (more here on halftones). Halftones are composed of tiny dots of ink. These tiny dots are the cause of the fuzziness.

If you want a crisp appearance of text and line art in a four-color job, you can either make it a five-color or six-color job and use a spot colors in combination with the four process color inks, or you can work around this limitation by using variations of the cyan, magenta and yellow color inks which use 100 percent of each ink. Shown below are color swatches that illustrate the point: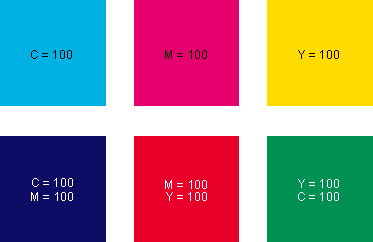 Admittedly, this is a very limited set of colors, but with clever planning you can design a layout that uses only the four basic process color inks and give it a look that otherwise could only be achieved in a five or six-color job.
Red - The Color That Pulls Responses
In space advertising, red is often used as a spot color to add emphasis (such as prices, heads, callouts or splashes). A two-color ad (black plus one spot color) using red as the second color will pull more responses than any other color. The principle works the same in four-color ads. Red is the best color to use for adding emphasis if you want responses. If the designer uses a mix of 100% magenta plus 100% yellow for the red color, then there will be no halftone dots where these inks are used. There will be a solid patch of yellow and a solid patch of magenta which overprint giving a crisp and distinct appearance.
CMYK Swatches PDF File
You can download the cmykswatches.pdf file below and print it out on a color inkjet or laser printer or on a commercial printer such as those at your local copy shop or print shop. You can then keep it at your desk or show it to clients when they participate in the color selection of a job you are working on. It is better to output it to a PostScript® printer because the colors will be closer to the actual printed output. I didn't prepare the PDF with any color management (no embedded profiles) so the colors in the printout will vary from device to device, but they should be close enough when used as described in this article.
Instructions:

1. First download and install the free Adobe Acrobat® Reader

2. If you wish to view the PDF file only, simply click on the link below

3. To download in Windows®: Place mouse pointer on the link, then right click the mouse.

For Internet Explorer®: "Save Target As..."
For Netscape®: "Save Link as..." then save it to disk

4. To download in Mac®: Hold the mouse button down for a second or Control + Click and a pop up window will appear.

For Internet Explorer: "Download Link to Disk"
For Netscape: "Save this Link as..." then save it to disk.