Wha's UUUp! Type Effect With Canvas™ 7
Part Five
16. Deselect everything to check your work. The text should look like the example shown below.

17. Next, we are going to add a SpriteEffect™. Select the text object with the Selection tool.

18. Next, click Object > SpriteEffects > Add Effect > Extensis® > PhotoBevel 2.0 Solo. You will see a dialog similar to the one shown below. The highlight and shadow colors are circled. Choose "Inner" for the bevel type and "Round" for the shape. Use the remaining settings shown below: Click "Apply" when done.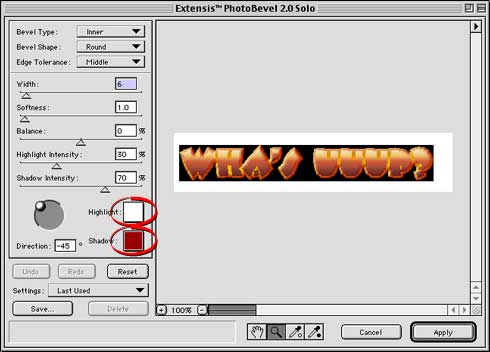 19. If the default resolution for the SpriteEffect is 72 ppi, the result should look like the example below. The edges are a bit spiky, so we can fix that by using anti-aliasing and increasing the resolution of the effect (without changing the text object).

20. Bring up the SpriteEffects palette and change the resolution to 300 ppi and click the "Anti-Alias" checkbox. These settings will help to smooth out the edges. This resolution is best for printed output, but you can re-render it back to 72 ppi and still have smooth edges. Once the effect is complete I will show you how...