Using a PC MACLAN Network:
Part One
Viewing Mac® Files In Windows® Explorer® on The PC
Once you setup the Mac-Win network using PC MACLAN (more here), files and folders on the PC's drives will display in the Finder just like files and folders on the Mac. Also, the Mac's files and folders will display in the Windows Explorer or the Network Neighborhood just like other files and folders on the PC. You can open, move, copy and otherwise manipulate files as you normally would.
Shown below is a shot of the Network Neighborhood on the PC: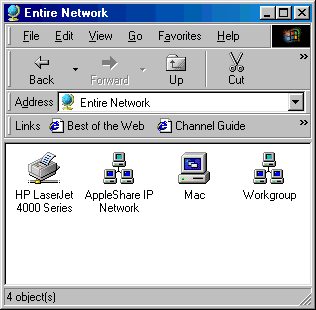 If you double-click the Mac icon, you will se the Mac's hard drive: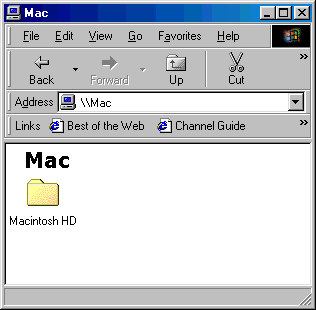 You can navigate the Macintosh® HD just like any other drive on the PC. If you click on a file on the Mac's drive from the PC, you will see the following warning: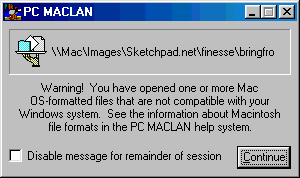 Heeding the advice in the warning message, if you open the PC MACLAN online help, you will find all the pertinent information needed to safely share files: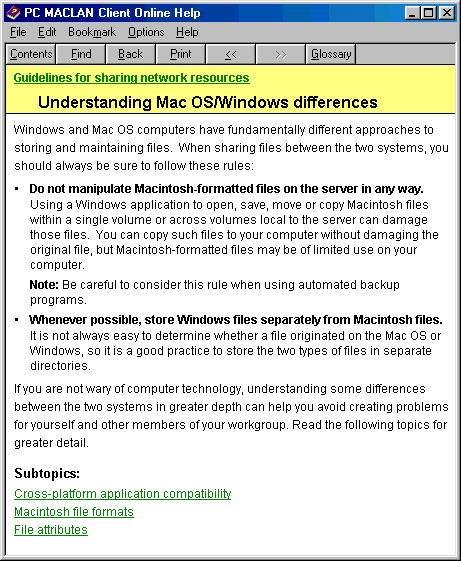 You need to read this topic and all the subtopics to thoroughly familiarize yourself with the differences between the Macintosh and Windows file systems so you can safely work with files on both platforms.
At this point it would pay to adopt specific work habits as to how you will work with files between the two platforms. As you can see above, the PC MACLAN online help recommends that you setup separate folders (directories) for storing Macintosh and Windows files.
Another habit to adopt is to work on a a copy of a file that resides on the drive of the computer of the other platform. Never edit a Macintosh file directly on the PC. Always edit a copy of a Macintosh file on the PC's drive. When you have finished editing the file, you can copy it over to the Mac.
Always Use The Mac as The Client
Always copy files using the Mac as the client. Never copy files to the Mac using the PC as the client. Since the Mac is friendlier to the PC than the PC is to the Mac, you know that the Mac will respect the PC's file system when copying files to the PC's drives. Unfortunately, the reverse is not the case.
Finally, you need to be aware that if you copy a Mac file to the PC's drive, any Mac resources that are part of the Mac file will be discarded by the PC in the process. The discarded resource fork will be converted to an .#Res file which will appear on the PC's drive: