Canvas™ 7 Aqua Button Tutorial
Part Eight
32. Select the clipped group of rectangles (not the highlight object) and bring up the Transparency palette. Set the opacity to 70%.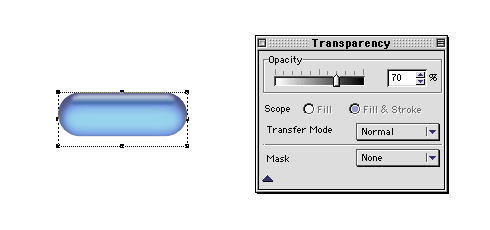 33. Next select just the highlight object by itself and bring up the Transparency palette again. Set the opacity to 80%. You can vary this depending on the results you get.
34. Your example should look similar to the one shown below.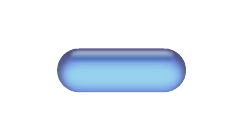 35. As a final touch, we will add some text to the button. Bring up the Text palette or click Layout > Display > Show Text Ruler. In the Text Ruler you can pick a font and point size. In the example below I chose 24 point Generic Tech (circled below). You can download this font for free on the "G" pages in the font archive right here at Mike's Sketchpad.

36. Select the Text tool and type some text.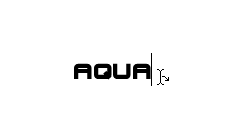 37. Click Effects > Shadow... and in the dialog, enter the specs shown circled below. Make the shadow an image object and choose a gray color from the pop-up color palette (circled below top). Click "Apply" when done. The shadow effect should appear similar to the one below left.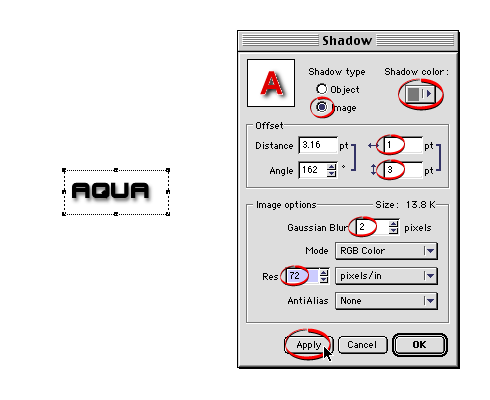 38. Group the text and its shadow object and position it on the button similar to the example shown below. This is the finished button. The shadow angle gives the illusion that it is being cast on the backside of the button. Click Here For Aqua Button Demo Page.