Canvas 6™ Technical Manual Project
Part 2D - Create The Master Pages
Return To Technical Manual Project Index
For simplicity I decided to use the grid instead of the alignment objects. Whether you decide to use the grid or alignment objects in your own work will depend on personal preference as well as the complexity of the project you work on.

30. Now we are ready to create the remaining master page objects. Start by using the Document Layout palette and activate master page layer 1.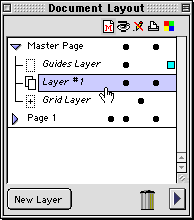 31. Next click Text > Insert > Footer. Canvas will create a special footer text object and a text cursor will appear. Type the word "Page" followed by a space and click Text > Insert > Page #. With this command Canvas inserts a special code in the footer that will automatically number each page.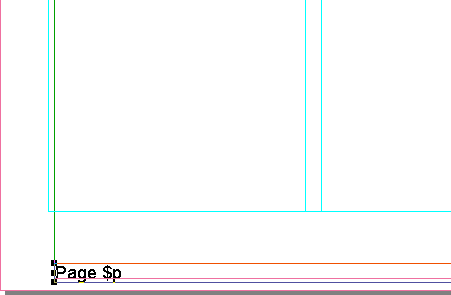 32. Next apply text formatting to the page footer. While it is still selected, bring up the Type palette and set the font to 10 point Poppl-Laudatio Regular italic then click the "Apply" button. Using the Transform palette, set the y-coordinate to 754.92 points.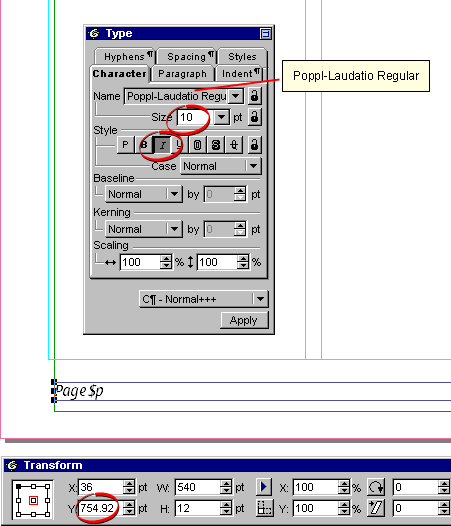 33. We need two additional colors for this project. Bring up the Inks palette and using the CMYK Bars, create two new colors with the following specs:
Gold
Maroon
C=0, M=20, Y=79, K=0
C=16, M=98, Y=100, K=13
For more help creating inks, click here.
| | |
| --- | --- |
| | |
34. Using the Line tool

draw a horizontal line at the top of the page from the left margin to the right margin. Make sure snap-to-grid is turned on or you have created alignment objects for the line object to snap to.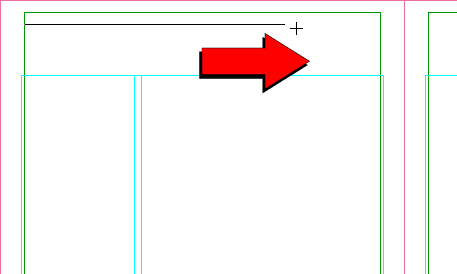 35. Bring up the Strokes palette and give the new line a 4-point stroke.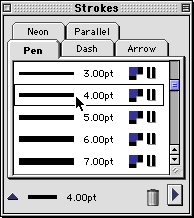 36. Using the Inks palette, give the new line a pen ink using the new gold color. Then with the Transform palette, enter 41 points for the y-coordinate. Next click Edit > Replicate one copy with an offset of zero (alternately use Edit > Duplicate with drawing preferences set for no offset). Send this new line object to back by clicking the "Send To Back" button on the toolbar, or by clicking Object > Arrange > Send To Back.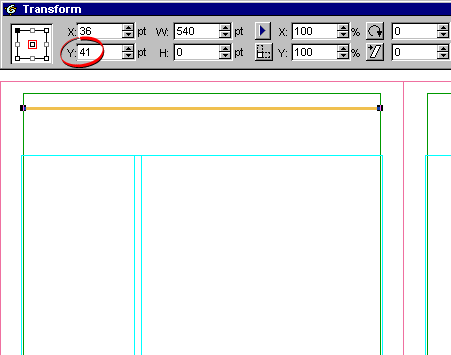 37. With the duplicate line object still selected, give it a pen ink using the new maroon color. Enter an x-coordinate value of 38 points and a y-coordinate value of 44 points in the Transform palette. Below is a close-up view of the pair of line objects.