A Rainbow of Illustrator® 9 Gel Buttons
Part 5B
81. Finally, select "Object 4" as in a previous step. In the Gradient palette click the slider of the second color of the gradient. Once again, choose the Grayscale color model from the Color palette options menu.
82. The second color of the gradient will convert to grayscale and the Color palette will again display its value.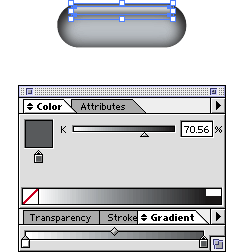 83. Below is a screen shot of the finished button.

84. You can convert any of the other RGB buttons to grayscale. Below is a copy of the yellow button made in a previous step. Follow the previous steps to change it to grayscale.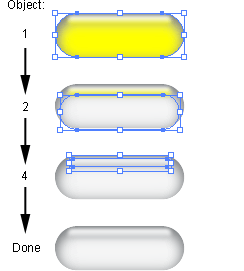 85. Shown below are the finished buttons. The buttons in the second row are 70% opacity and can be used for different states of a rollover effect. As you can see, text is visible through the button.